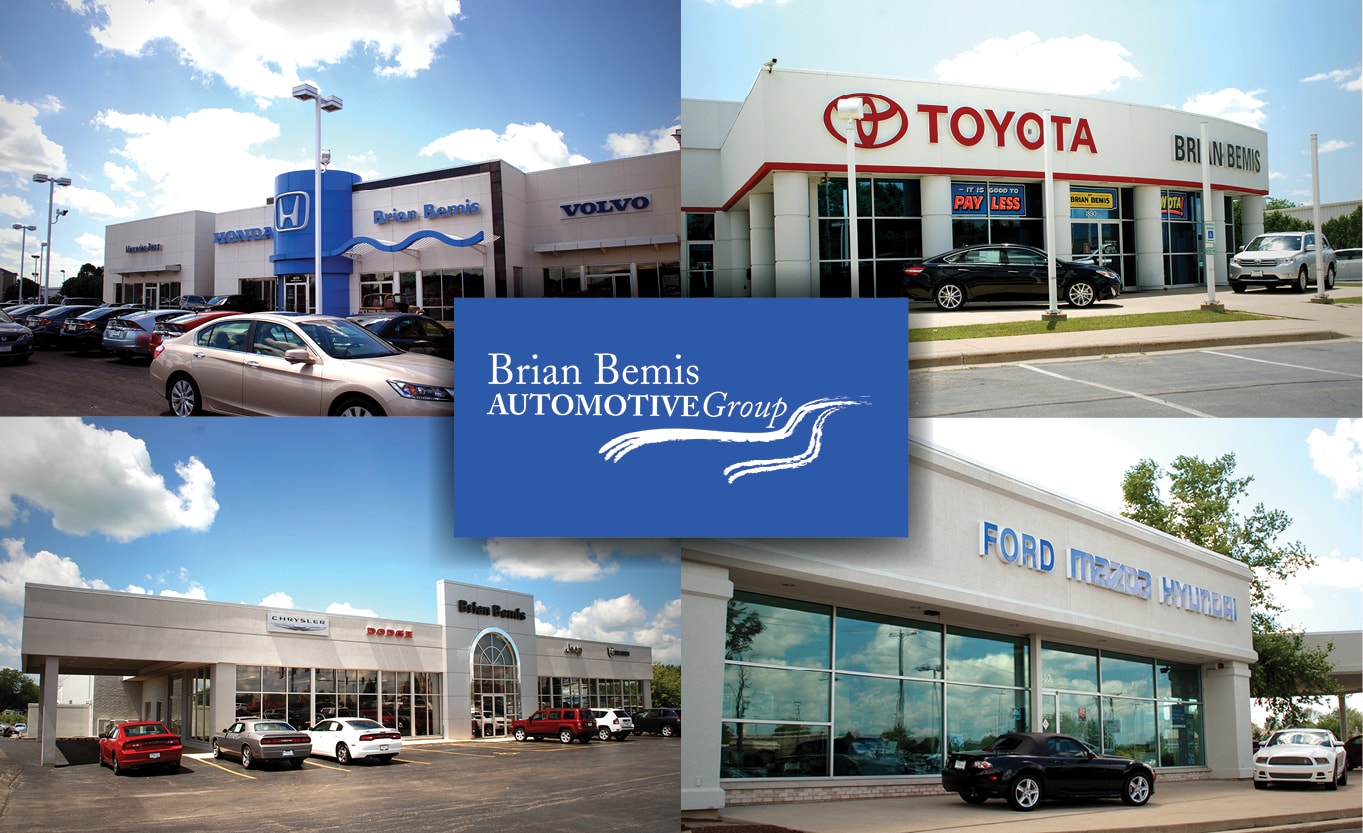 11 Brands. 4 Locations.
Welcome to the Brian Bemis Auto Group website, a fast and convenient way to research and find a vehicle that is right for you. Whether you are looking for a new or used Chrysler, Dodge, Ford, Honda, Hyundai, Jeep, Mercedes-Benz, Ram, Toyota or Volvo car, truck, or SUV you will find it here. We have helped many customers from Clare, Cortland, Dekalb, Malta, Maple Park and Sycamore find the Chrysler, Dodge, Ford, Honda, Hyundai, Jeep, Mercedes-Benz, Ram, Toyota or Volvo of their dreams!
We know that prospective customers are extremely well educated when researching their next vehicle. Brian Bemis Auto Group has made it easy to get all the available vehicle information so you can spend less time researching and more time enjoying your purchase. Check out our new specials and used specials for additional savings on your next vehicle.
If you don't see what you are looking for, call us to discuss your options with our friendly sales staff. Or, to visit us and speak in-person, click on Directions for interactive driving directions and other contact information. We look forward to serving you!

From humble beginnings.
Brian J. Bemis began his career in the automotive industry at the age of 14. According to Brian Bemis, There's no better place to start in the car business than washing cars and getting them ready for customers. You get to be in touch with everyone inside the dealership....sales people, service, ownership. At the age of 18, Brian Bemis was promoted to car sales and never looked back. In 1984 he purchased Kishwaukee Dodge in Sycamore and currently has 11 franchises from domestic, European, and Asian manufacturers in multiple cities.
Our locations.
Our Locations Since 1984 Brian Bemis Automotive Group has grow to 4 locations in 2 cities; Sycamore and DeKalb. Through the years we have remodeled our facilities to offer luxury and conveniences for our customers. All of our locations have free wifi, a professional quiet waiting area, children's play rooms, drive in service departments and a comfortable setting.

Our Customers.
Brian Bemis says, We measure customer satisfaction everyday. The simple fact is that we need to keep customers better than happy...we need their experience to be surprisingly good, better than they can find elsewhere. We have a number of customers who are 3rd generation Bemis family customers and have purchased over a dozen cars.
A dedicated and certified staff.
Brian Bemis Automotive Group has over 200 employees. Many of our employees have 15, 20 and even more than 35 years with the company. 
Together with our employees, Brian Bemis dealerships have earned the 5 Star Certification in customer service excellence at all of the Chrysler locations, are Ford Blue Oval Certified, Honda EXCELL validated and have received the Toyota President's Award. Brian Bemis was even awarded a 25 year service award from Chrylser. 
Many of our employees have individually been recognized for their excellence in their individual fields of expertise.